Aloha Stampers!
This picture isn't really showing off the Designer Series Paper like it should.  The pink & red are very shiny & pretty!!  Hence the name "Specialty" Designer Series Paper.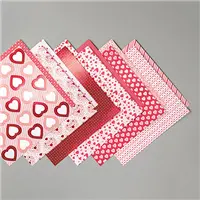 Collar Fold
This fold is called a Collar Fold and it's a simple way to show off your Designer Series Paper.
The Designer Series Paper is cut at 5 1/2″ x 4 1/4″ and you make a 1 1/2″ slit in the middle ((2 3/4″).  Then just fold the paper back to show off the back side.
This is one of the Valentine Cards we'll be making at the Kaunoa Class on Jan. 13th.  DETAILS HERE.
Try making one at home!  You'll find all the supplies listed below and can order just by clicking on the item.
Thanks for stopping by today!
Be sure to use this month's Hostess Code:
6FUGQ2MC