Aloha Stampers!
Inspired by Color!
You know I love my blues and greens!  Are you inspired by color?  You can't go wrong if you use this color combination!  Here's where the inspiration for this card came from… Snowflake Splendor Designer Series Paper.  And you can order it beginning August 4th!  Yay!  Hopefully you have your new Holiday Catalog and are getting your Wish List ready!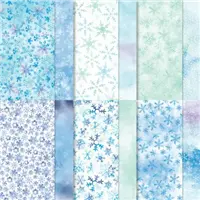 Last week I made a W Card using this pretty paper!  This Fun Fold is new to me and it's a nice way to showcase our beautiful Designer Series Papers!  I made a video last week to show you how to make this fold.  Hope you'll give it a try!
More about this card and video tutorial HERE!
Each weekend I plan to share a color palette I love to help you as you're making cards at home.  This helps me, too!  By pinning them to my PINTEREST COLOR BOARD, you can always go there to find inspiration for your color choices!
Have a great weekend and be sure and squeeze in a little stampin' time!  And be sure and leave a comment if you'd like a catalog from me.  I'd be happy to send one your way!
Be sure to use this month's Hostess Code:
NPU662BP